A Musical Within A Comedy!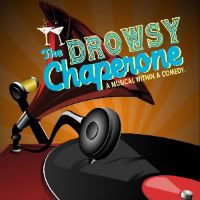 Music & Lyrics by Lisa Lambert & Greg Morrison
Book by Bob Martin & Don McKellar

June 1, 2, 8, 9, 15 & 16 at 8 p.m.
June 3, 10 & 17 at 2:30 p.m.
All performances at Buck Creek Playhouse | 11150 Southeastern Avenue, Indianapolis, IN 46259

Directed & Choreographed by D. SCOTT ROBINSON
Vocal Directed by MATTHEW KONRAD TIPPEL
To chase his blues away, a modern-day musical theater addict known simply as "Man in Chair" drops the needle on his favorite LP — the 1928 musical comedy, The Drowsy Chaperone. From the crackle of his hi-fi, the uproariously funny musical magically bursts to life around him in his apartment, telling the tale of a pampered Broadway starlet who wants to give up show business to get married, her producer who sets out to sabotage the nuptials, her tipsy chaperone, the debonair groom, the dizzy chorine, the Latin lover, and a pair of gangsters disguised as pastry chefs. Man in Chair's infectious love of The Drowsy Chaperone speaks to anyone who has ever been transported by the magic of live theater.
Tickets can be reserved online at http://www.buckcreekplayers.com or by phone at 317.862.2270.